The Wallowing Hippo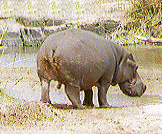 A Hippo went wallowing on a hot summers day.
To cool himself down in the middle of May.
His friends the birds, were keeping him clean.
By eating the insects, that could be seen.

His gray wrinkled body, by now was so cool.
Thanks to his wallowing, in his own little pool!
His long sharp teeth, were sparkling and white.
The secret was clear, they soaked overnight!

Suspended by grass, and held in a glass.
The clear effervescence was giving them class.
Next morning at dawn, while having a yawn.
A loose little molar, was obviously drawn.

The birds hollered hark! Or was it a Lark?
Who perched himself down, on a tree stump bark.
"The time is quiet right," in folly did quip!
For Hippo to use, his own 'Poly-Grip'!!

By: Miss Amy Hanley
When aged 12

E-mail
chris_hanley7@hotmail.com
(Chris Hanley) Oceanside, CA 92054 © 2000
Best viewed with Internet Explorer 4.0 or above

To continue to view other poems, select from the links below

.

Last time reviewed 08/31/02